WHERE IS POKHARA?
Pokhara is located 200 km (124 miles) west of Kathmandu and it the most important tourist area outside Kathmandu. Its population of around 170,000 makes it technically the third largest city in the country, but in terms of economy, most consider it the second. In most people's eyes, for beauty it certainly ranks 'number one'.
Pokhara used to be an important trading post between India and China, now it has become the main hub for trekking and mountaineering in Nepal. The area's beauty makes it a great favourite with tourists; some stay a week or more for there is plenty to see and to do, whilst those who are trekking for several days, probably doing the famous 'Annapurna Circuit,' tend to spend a couple of nights here to relax before and after their trek.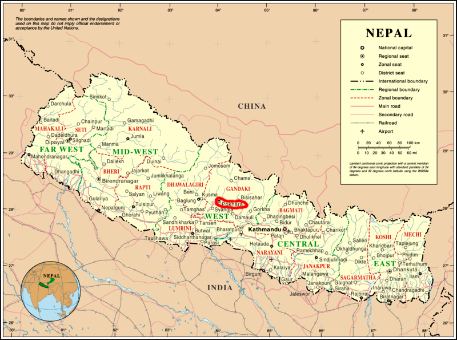 GETTING TO POKHARA - Pokhara can be reached by plane, taxi, microbus or bus.
The internal flight is from Kathmandu's domestic airport, just a few minutes' walk from the international one. There are several different flights a day, with various airlines. Costs vary slightly according to the airline, but are usually 121 dollars (US) in each direction and the journey time is abou 28 minutes. In good weather, the views are stunning. Apart from on Buddha Air, seats are not pre-allocated on local planes, so try to get to the head of the queue and take a seat on the right hand side of the plane flying to Pokhara, and on the left going back (but if you are on the other side, you should be able to glimpse the World Peace Pagoda and Peace Dragon Lodge).
A taxi can be more economical if there are two or more people, and the journey provides an interesting way to travel through magnificent scenery in a few hours. Usually a taxi will usually get you here in 5 - 6 hours, depending upon traffic. A standard-sized car with driver is 13,000 Nepali rupees in one direction (add 20% for aircon). Car travel can be fixed via Peace Dragon.
A microbus journey costs about 450 nrs one way and most of the passengers in the usually cramped 16 seater will be Nepalis, but this is generally faster than the bus. Of the bus companies, Greenline is one of the best tourist buses and costs 22 US dollars each way. All drivers stop en route for refreshments (lunch is included in the ticket price). There are many other tourist bus companies now travelling to Pokhara, a seat without a meal cost 1,300-1,500 Nrs in a bus with aircon, or 600-800 Nrs without.
Transport from the airport to Peace Dragon Lodge can be arranged for $10 each way. From the Stupa car park, which is as far as the taxis can come, it is a 7 minute walk to the lodge; we can always arrange help with carrying you bags if you or the driver let us know. Energetic visitors may prefer to trek up through the forest from Damside, which takes about one and a quarter hours. A particularly nice way to arrive is to cross the Fewa Lake by boat and then hike up to the Lodge through the forest for about 40 minutes.
PLEASE JUST ASK IF YOU WOULD LIKE US TO ORGANISE ANYTHING FOR YOU TO DO WHILE YOU ARE HERE.
We can easily fix paragliding, parahawking (Nov-April/May only), microlite flights, or even light aircraft or helicopter flights. Treks, long or short, camping and white-water rafting can also be booked through Peace Dragon Lodge. We are usually able to obtain favourable rates, so please let us know if you would like us to organise something on your behalf.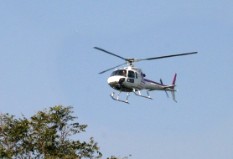 For navigation boxes see top of page