Peace Dragon Lodge is now open for guests, though we are still only opening half of our rooms so that guests have plenty of space. In addition, for those booking directly with us we are offering a 40% discount on the room rates quoted on this web site.
Service charges are discretionary; they are not automatically added.
Welcome to Peace Dragon Lodge & Restaurant, situated high on a hilltop overlooking the magnificent Phewa Lake and the Annapurna range of mountains, with the Fish Tail (Machhapuchre) standing proudly in their midst. From here you can see three of Nepal's 8,000+ metre peaks, Daulaghiri, Annapurna I and Manaslu. This has to be one of the most magnificent views in Nepal and is only four minutes' walk away from the World Peace Pagoda, which is a taxi or bus ride from town, or you can hike up, combining this with a boat ride across the lake if you like.
Expect to pay 800 nrs for a one way taxi ride, which will bring you to the World Peace Pagoda Car Park. From there it is 7 minute walk to Peace Dragon Lodge - head for the Peace Pagoda, but instead of going up the second set of steps, walk straight ahead. Our staff can always meet you at the parking area to help carry your bags, if you or your driver gives us a ring on 061691847 or 9846794163.
There is now also a rural road right up to the front of the Lodge, but not all taxis use this road, so please check with your driver.
Buses only run at certain times of the day and are very cheap. If you need current bus times, please let us know.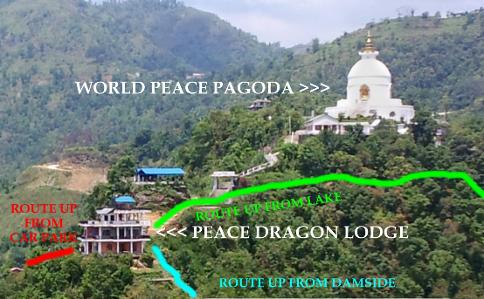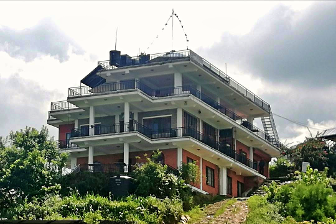 Our Trip Advisor rating is 4.5 stars and we have been awarded a Certificate of Excellence
Expedia rating 4.6/5
Booking.com rating 8.7/10
AirBnb Superhost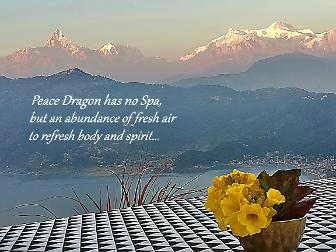 The Lodge is jointly owned by Dibya Kumar Baral and Juliette Cunliffe so, with Nepali and Western hosts, guests enjoy the best of both worlds, authenticity coupled with those extra little touches that matter so much when travelling.
Peace Dragon Lodge has a page on FACEBOOK, so if you want to keep up-to-date with us, please take a look at our site and if you 'Like' it or 'Share' it, that's all the better!
This short video was shot at 7am on February 9th, 2012.
This video was compiled in 2015.
The lodge took almost six years to build to a high standard and opened in 2010, so why not come along and spend a very special few days with us? Or just drop in for a meal or snack at our roof-top restaurant or in our cosy bistro?
Our cook is first rate, and everything is freshly cooked here. At Peace Dragon you will find the best food in the area, and at very reasonable prices.
Our ten letting bedrooms are clean, tasteful and comfortable, each with its own shower room with water heated by solar energy.
There is free wireless internet connection at good speed, and back up power to charge your mobiles and laptops if Nepal's occasionally erratic power supply goes off.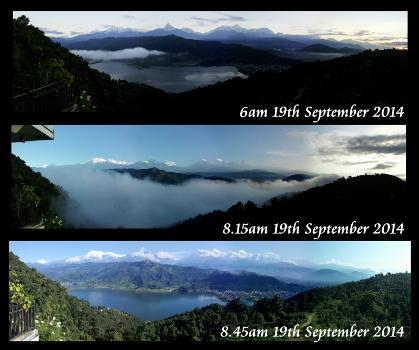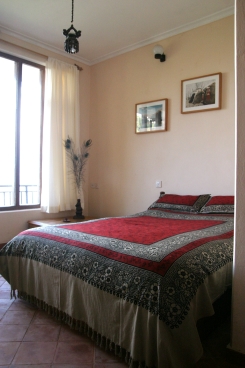 The tasteful bedrooms are clean and cosy; all have attached shower-rooms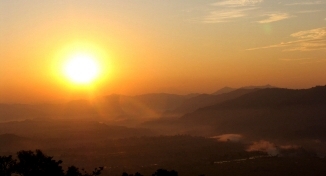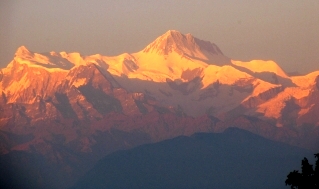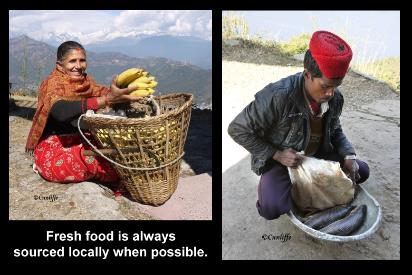 The above photo was taken from Peace Dragon Lodge
Below, a Microlite flies over the mountain range in front of Peace Dragon


Rainbow seen from Peace Dragon Lodge. 6pm, May 24th, 2016
Contact Us:
Telephone: Reception (+977) 61691847
Mobiles:
(+977) 985 6021182 Nepali/Hindi speaker
(+977) 980 6651591 English/French speaker
Email: peacedragon@email.com