Welcome to Peace Dragon Lodge & Restaurant, situated high on a hilltop overlooking the magnificent Phewa Lake and the Annapurna range of mountains, with the Fishtail (Machhapuchhare) standing proudly in their midst. From here you can see three of Nepal's 8,000+ metre peaks, Daulaghiri, Annapurna I and Manaslu.
This has to be one of the most magnificent views in Nepal and is only four minutes' walk away from the World Peace Pagoda.
We are a taxi or bus ride (limited hours) from town, or you can hike up, combining this with a boat ride across the lake if you like.
A taxi fare from Tourist Bus Station or from Lakeside is 900 Nprs, or 1,400 Nprs from Pokhara's new airport. A taxi can drop you at the World Peace Pagoda Car Park from where it is 7 minute walk to Peace Dragon Lodge, or there is now a gravel road up to the very front of the lodge. Our staff can always meet you to help carry your bags, if you or your driver gives us a ring on 9846794163.
In compliance with Nepali law, service charges are discretionary; they are not automatically added.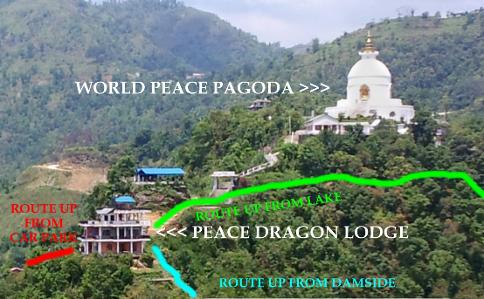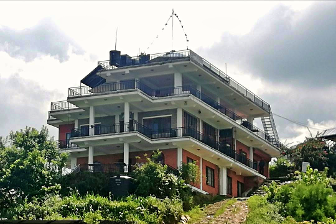 Our Trip Advisor rating is 4.5 stars and we have been awarded a Certificate of Excellence
Booking.com rating 9.1
AirBnb Superhost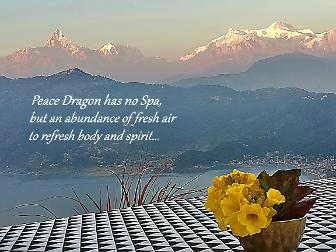 The Lodge is jointly owned by Dibya Kumar Baral (Nepali) and Juliette Cunliffe (British).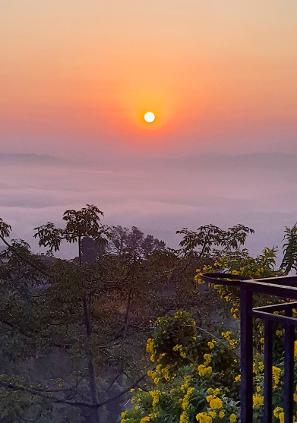 Sunrise from one of our balconies
The lodge was built to a high standard and opened in 2010, so why not come along and spend a very special few days with us? Or just drop in for a meal or snack at our roof-top restaurant or in our cosy bistro?
Everything is freshly cooked here, and prices are reasonable.
Our 9 letting bedrooms are clean, tasteful and comfortable, each with its own shower room. Water is heated by solar energy.
There is free wireless internet connection at good speed, and back up power to charge your mobiles and laptops if Nepal's occasionally erratic power supply goes off.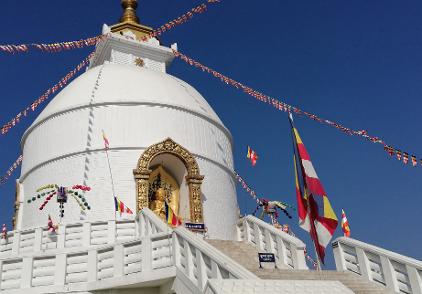 The World Peace Pagoda is 4 minutes' walk from Peace Dragon Lodge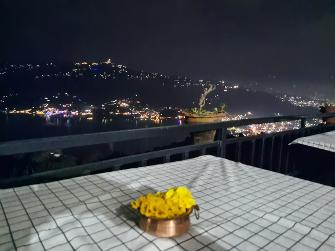 Overlooking Pohara city at night, from one of our terraces
Contact Us:

(+977) 980 6651591 English/French speaker
(+977) 985 6021182 Nepali/Hindi speaker
Email: peacedragon@email.com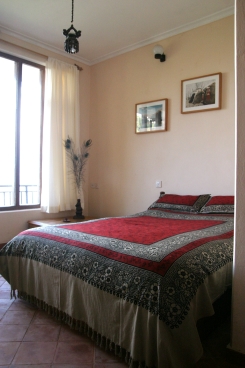 The tasteful bedrooms are clean and cosy; all have attached shower-rooms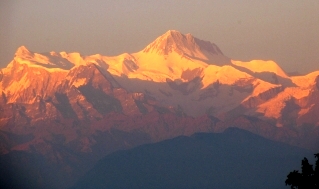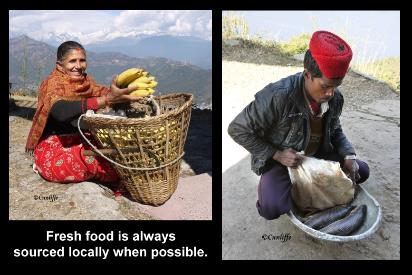 The above photo was taken from Peace Dragon Lodge
Below, a Microlite flies over the mountain range in front of Peace Dragon


Rainbow seen from Peace Dragon