PANCHASE TREK – 5 NIGHT 'PACKAGE'
If you want to experience the beauty of Nepal and do a relatively easy, panoramic trek, without climbing too high and without leaving comfort behind you for too long, the Panchase Trek may be just the one for you. On this trek you will go through protected forest, old-fashioned, traditional village settlements and the sources of several streams, including the Harpan Khola, which is the main feed for Phewa Lake. This is a not-often-followed route and is a unique photographic destination.
The terrain varies from subtropical valleys with banana trees and rice paddies to high ridges covered in forest, and when the rhododendron are in bloom in spring, it is a joy.
The area you will trek in is known for its wide variety of birds and animals, taking you off the beaten track and offering a chance to explore the many cultures in the area, especially Brahmin, Chhetri, Magar, Gurung, Bhujel and Kami. You will see great views of the Dhaulagiri, the Annapurnas, Machhapuchhre (Fishtail), and Hiunchuli, Lamjung and Manaslu.
The maximum height reached is 2509 metres and the trek starts from Peace Dragon Lodge (1082 metres), right by the World Peace Pagoda, so you are already on your way up! Views from Peace Dragon are already a feast for the eyes, making this an excellent spot to start and end your trek.

Suitable months for the Panchase trek are from mid-September through to May, and it is suitable for most age groups.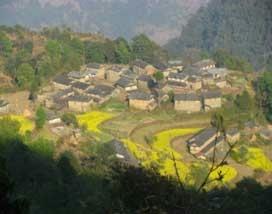 PRICE FOR
ONE PERSON TRAVELLING ALONE: USD TBC
TWO PERSONS SHARING A ROOM: USD TBC
Included:
Pick-up and drop off from Pokhara airport or tourist bus station.
Room with en suite shower room at Peace Dragon Lodge x 3 nights, including breakfast and dinner (with tea/coffee).
Experienced, English-speaking trekking guide, who will carry up to 5 kilos.
Homestay accommodation for 2 night / 3 day trek, with all meals provided.
Not included:
Lunches whilst staying at Peace Dragon
Hard and soft table drinks, such as coke, Fanta, lassi, mineral water, alcoholic drinks etc.
Personal travel insurance
Porter – it is unlikely that you will need a porter for a 2 night trek, but if you do, please add USD 45.


Day 1. Upon arrival in Pokhara, Peace Dragon's friendly driver will meet you at Pokhara Airport or tourist bus station and will bring you Peace Dragon Lodge where you will have time to settle into your room and relax before dinner. Depending on your time of arrival, you will have time for a short village walk, and visit to the local World Peace Pagoda.
Day 2. Breakfast and dinner at Peace Dragon, but the rest of the day is free for you to explore as you wish. You will probably want to walk down to the tourist area of Lakeside to discover the shops and restaurants and of course Phewa Lake, or you may prefer to visit Davie's Fall, Gupteshwar Cave, Tashi Ling Tibetan Refugee Camp and maybe the International Mountain Museum.
Alternatively you can simply while away your time up here at Peace Dragon to absorb the views with a good book; if you didn't do our village tour on Day 1, this can be arranged on Day 2 if you prefer.
Day 3. Enjoy a leisurely breakfast on our rooftop, and (leaving your heavy bags here at the Lodge) depart at 9.30am for your 4-5 hour trek up to Bhumdi Deurali. Stay in a homestay and enjoy local food and hospitality.
Day 4. After breakfast at your homestay, enjoy a 4 hour trek up to Panchase where you will see 'the five seats', the meeting place of five peaks. Stay in another homestay and enjoy more Nepali hospitality.
Day 5. Rise early to see the sunrise from Panchase and then you have an option as to how to return to Peace Dragon.
A) You can trek back the same way, downhill, which will take about 7- 8 hours to Peace Dragon where you will have dinner and spend the night - or
B) You can take a shorter trek down to the north side of Phewa Lake, then take a bus for the last leg of your journey round to Lakeside, followed by a taxi ride back up to Peace Dragon. Spend your last night at Peace Dragon Lodge, with dinner.
Day 6. If the weather is favourable, enjoy yet another wonderful sunrise and a hearty breakfast before leaving Peace Dragon. Our taxi driver will take you down to Pokhara airport, the bus park, or to Lakeside if you plan to spend more time there before your onward journey.